William Walton Working Equitation Clinic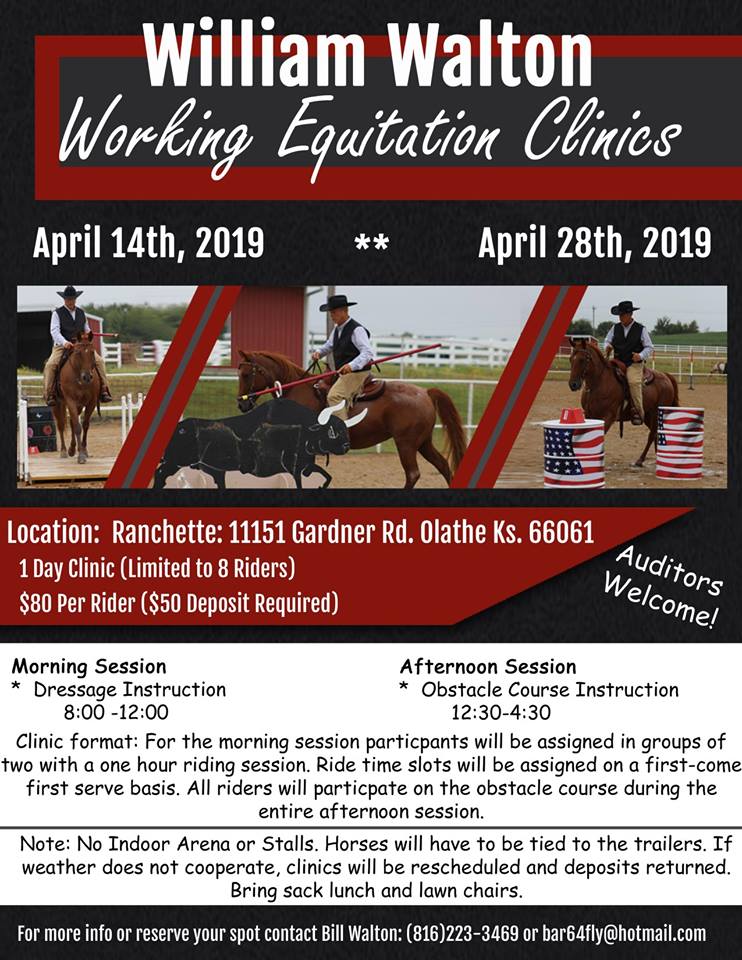 Join us Sunday April 14th, 2019 at the Ranchette in Olathe Kansas! From 8:00am – 4:30pm clinician Bill Walton will be teaching riders about Working Equitation. This is a fun and fast growing discipline that anyone can participate in and enjoy. Sign up today!
**Location: 11151 Gardner Road, Olathe Ks. 66061
**Rider fee: $80 – Limited to 8 Riders ($50 deposit required)
**Format: For the morning session participants will be assigned in groups of two with a one hour riding session. Ride time slots will be assigned on a first-come first-serve basis. All riders will participate on the obstacle course during the entire afternoon session
Morning:
8:00-9:00 Group A
9:00-10:00 Group B
10:00-11:00 Group C
11:00-12:00 Group D
Afternoon:
12:30-4:30 All Groups
Special Note: No indoor arena or stalls. Horses need to be tied to trailers. If weather does not cooperate, clinics will be rescheduled and deposits refunded. Bring a sack lunch and lawn chairs! Auditors are welcome!
You can learn more about Bill at www.williamcooperwalton.com.
For more information or to sign up contact Bill Walton (816)223-3469.
Submit your events to our calendar. Just click and fill out the form below and be sure to include the event title, date, location, details, and your contact info. Our staff will be glad to add it as quickly as possible. Once you have sent us the info you should receive a confirmation email from us. If not PLEASE give us a ring!