"Better Horses TV is all about the love of the horse."  It is our way of saying thank you to our friends and horses that we have met and are meeting through this journey! Join show host Ernie 'The Horse Guy' Rodina every Sunday morning on KCWE Channel 29 at 8:00 am Kansas City, KSNW-TV in Wichita, KSNC-TV Great Bend, KSNG-TV Great Bend, KSNK-TV Oberlin and KSNL-TV is Salina.  See the next horse adventure on the unbelievable Better Horses T.V!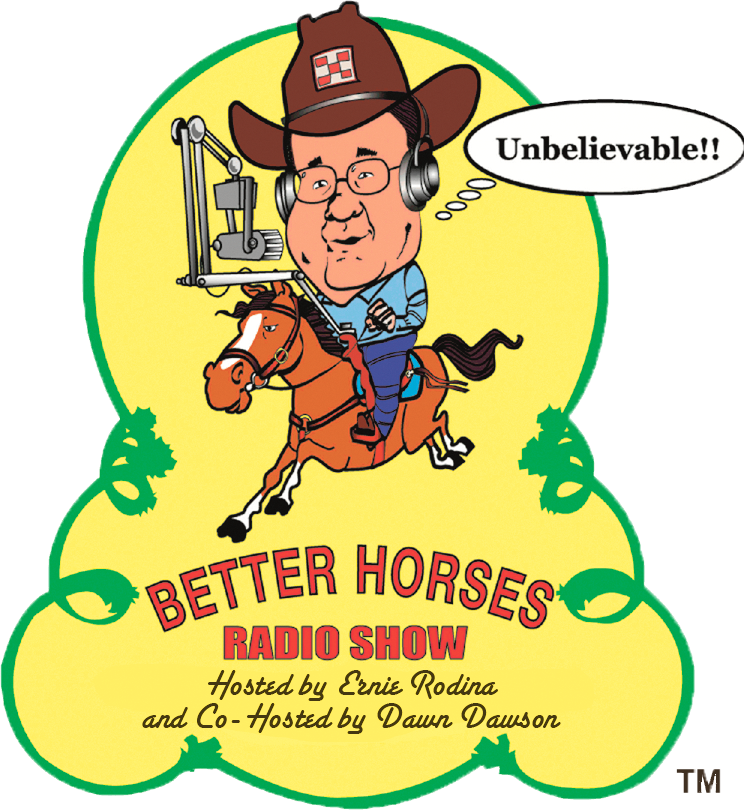 Better Horses Radio World Wide
Better Horses airs weekly on a world wide program that has over 25 stations across the Midwest as well as a local show "Better Horses Connected" airing Saturday mornings on KFKF Country 94.1 FM. These programs offer education and information on a wide range of topics such as horses, horses training, cowboys and cowgirls, some cattle and even Roy Rogers!
"BETTER HORSES CONNECTED" RADIO SHOW
The "Better Horses Connected" radio show aires weekly on Kansas City's KFKF Country 94.1 FM on Saturday mornings.  It is our local version of the Better Horses Radio Regional World Wide Show. With hosts, Ernie Rodina along with Ed Adams Better Horses Connected zooms in on local news and events while at the same time utilize enjoying top midwest talent.  You can also listen live every Saturday morning at 5:00 am CST or visit our podcast "Better Horses"
"Better Horses Connected" Radio Show Air Date: 12/08/18
Host Ernie Rodina and Ed Adams discuss horse tips with todays professionals.
Guests today:     
Jason VanlandinghamL 2018 NRHA Futurity Champion 940-727-2449  2) Margauex Tucker; Gaux Pro Performance Horses: Cold Weather Riding: 574-360-6868   3) Steve Ross: www.steverosshorsetraining.com  254-434-8444    
Air Date 12/01 Guests today: Guests today: 1.Danielle Baker - American Royal (816) 569-4046. 2.Alexis Losey – Dressage trainer (816) 582-8982 3.Joey Roberts – Kansas City Mounted Police (816) 805-3945
Air Date: 11/24 Guests today: Sarah Leonhard: Purina Animal Nutrition- Feeding Tip; 785-331-9432 2.Mark Gratny: Leavenworth Ks.: Versatility; Ranch Riding: NRHA Futurity; 913-683-3838 Equus Curito Equine Center: Al Dunning: 602-361-8803
Air Date: 11/17 Guests today: 1) K-State Rodeo: Casey Winn 435-681-0201 2) Jim Gray talks about the Drovers Museum effort in Ellsworth, Ks. 785-531-2058 3) Julie Vollertsen: Rio Equestrian Center, Oak Grove, MO 4) Josh Rushing: 2018 EXCA world finals
BETTER HORSES WORLD WIDE RADIO SHOW
The Better Horses World Wide Radio Show is a weekly program that airs an hour of great Equine Information to our listeners. We are currently airing on over 25 stations across the Midwest, from western Oklahoma to Augusta, Georgia! We talk about God, horses, horse training, cowboys, cowgirls, rodeo, equine health, some cattle, and even about Roy Rogers. We love horses, horse folks, and the Western Way of Life and hope you enjoy listening to this show, as much as we love doing it! Check out the current listing of shows!
The Better Horses World Wide Radio is available as a podcast.  Search for Better Horses on your podcast app. and listen to previous shows or download on any mobile devise.
BETTER HORSES NEWSPAPER PUBLICATIONS
2018 Fall Edition — Volume 19 No. 4
Flint Hills Become Dreamland (P4) - Where Have They Gone (P11) - Our First Year and the Races (P13) - Mustang Beginnings Challenge Attracts Youth To Train Horses From The Wilds Rodeo Stars Claim Championship Buckles (P23) - Scholarships To Youth For Education Toward Career Horse Endeavors (P41) & Many More!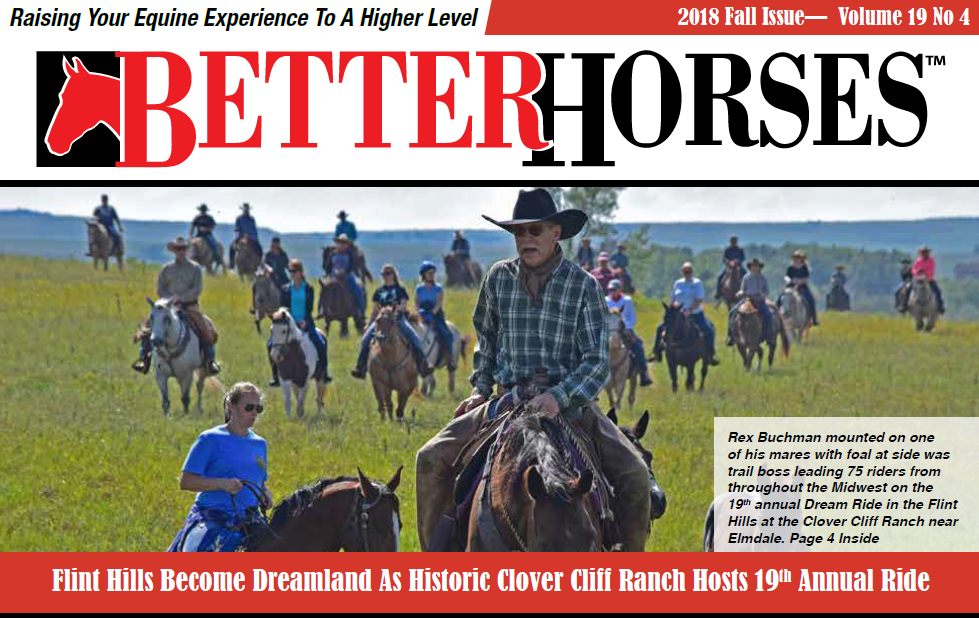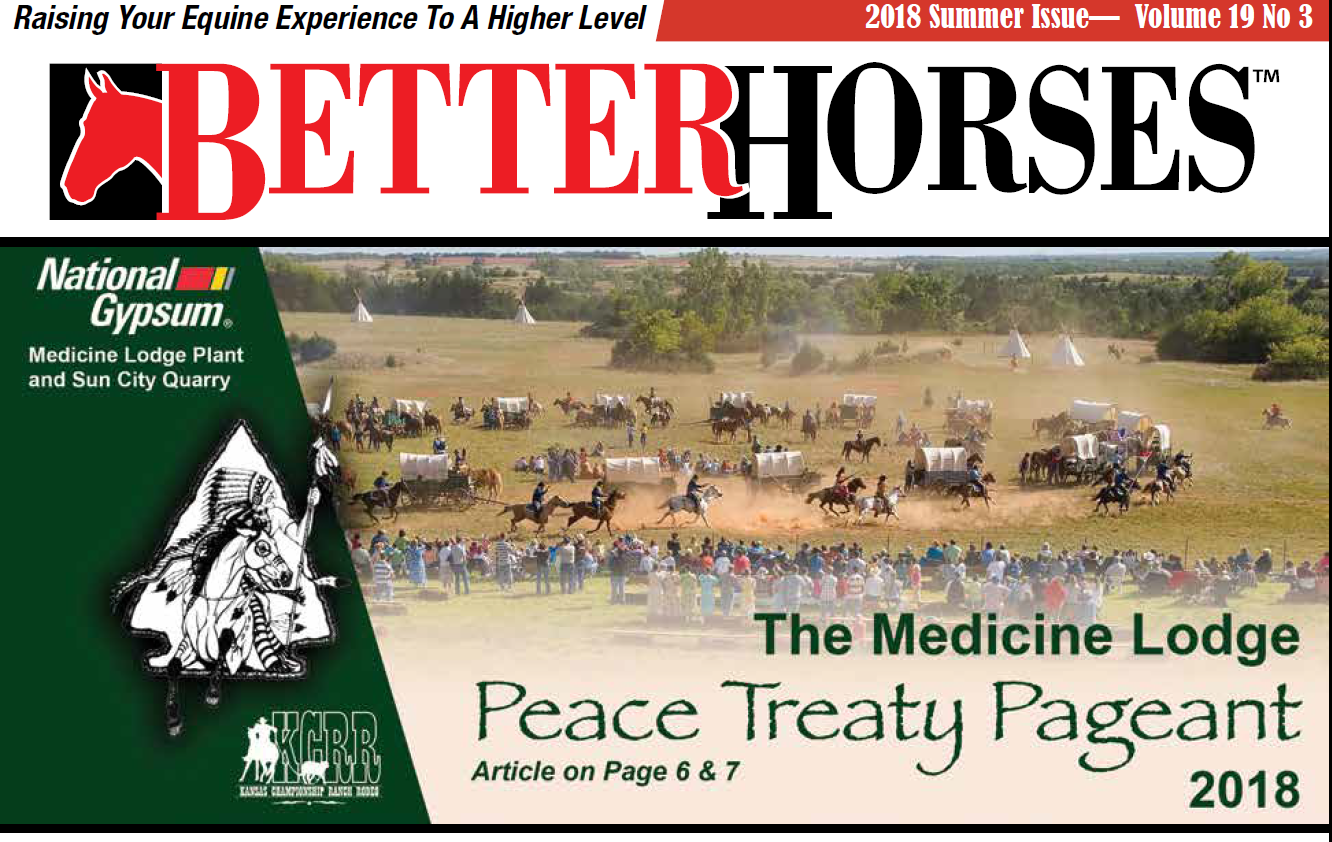 2018 Summer Edition Vol 19, No 3
Welcome to Peace Treaty 2018 (P6) - Kansas Horse Council and Back Country Horsemne of Kansas Team Up to Tackle Trail Work (P8) - Tammy Pate Horsemanship and Yoga (P10) - Busy Writer, Teacher Always Has Horses Close to Her Heart (P11) - Historic Flint Hills Hotel Captures the Spirit of the West (P13) - Wanna Be Cowboy Makes Dream Come True (P15) & Much More!
2018 Spring Edition Vol 19, No 2
2018 19th Annual Dream Ride (P9) - One Family Big Dreams (P12) - Coffeyville Cowboy Climaxes National Finals Rodeo At Fourth in World Team Roping Heeler Standings (P17) - Passing of "This" Bonnie and Clyde, Renowned Draft Pulling Team, Leaves Big Void For Loving Family Owners (P19) - Safe Traveling with Your Horse (P24)
Subscribe to Better Horses Newspaper Today!
Sign up today to start receiving a copy of our monthly newsletter or signup to receive a copy of the Better Horse Network paper in the mail. There is a $15.00 annual subscription for the paper copy (printed 5 times per year).