"Better Horses Television is all about the love of the horse."  It is our way of saying thank you to our friends and horses that we have met and are meeting through this journey! Join show us every Sunday on these broadcast television stations:
Better Horses Radio Network
Better Horses airs weekly on a world wide program that has over 25 stations across the Midwest. This program offer education and information on a wide range of topics such as horses, horses training, cowboys and cowgirls, some cattle and even Roy Rogers!
BETTER HORSES NETWORK RADIO
The Better Horses Radio Network is a weekly program that airs an hour of great Equine Information to our listeners. We are currently airing on over 25 stations across the Midwest, from western Oklahoma to Augusta, Georgia! We talk about God, horses, horse training, cowboys, cowgirls, rodeo, equine health, some cattle, and even about Roy Rogers. We love horses, horse folks, and the Western Way of Life and hope you enjoy listening to this show, as much as we love doing it! Check out the current listing of shows!
Better Horses Radio Network Air Date: 03/05/23
Host Ernie Rodina with Co-hosts Dawn Dawson and Ron McDaniel discuss horse tips with today's equine professionals.
Guests today:    
1. Pastor Steve Stafford: Inspirational Prayer
2. Jennifer Gatrel: www.pegasusriders.com
3. Buster McLaury: www.bustersherylmclaury.com
4. Josh Rushing: www.facebook.com/shoenrhorseman/
5. Dr. Laurie Beard - Horse Tip of the Week: Colic
Air Date 02/26/23 Guests: Pastor Steve Stafford, Van Hargis, Russell Dilday, Dr. Warrent Beard.
Air Date 02/20/23 Guests: Pastor Steve Stafford, Lari D Guy, Emilee Charlesworth, Dr. Chris Blevins.
Air Date 02/12/23 Guests: Pastor Steve Stafford, Guy McLean, Dr. Katie Delph Miller.
The Better Horses Radio Network is available as a podcast.  Search for Better Horses on your podcast app. and listen to previous shows or download on any mobile devise.
BETTER HORSES NEWSPAPER PUBLICATIONS
2023 Stallion Edition Vol. 24, No 1
Kansas Horse Council Presents the 26th Annual Equifest of Kansas (P4) - Improving Handlers' Relationships With Horses at EquiFest of Kansas (P8) - 'Everything Horses' Featured for EquiFest of Kansas at Salina (P9) - Selecting a Performance Prospect (P11) - Large Farm Tractor Demand Expands With Overall Machinery Sales Down (P13) - Create a Rewarding Connection With Your Horse (P14) & Much More!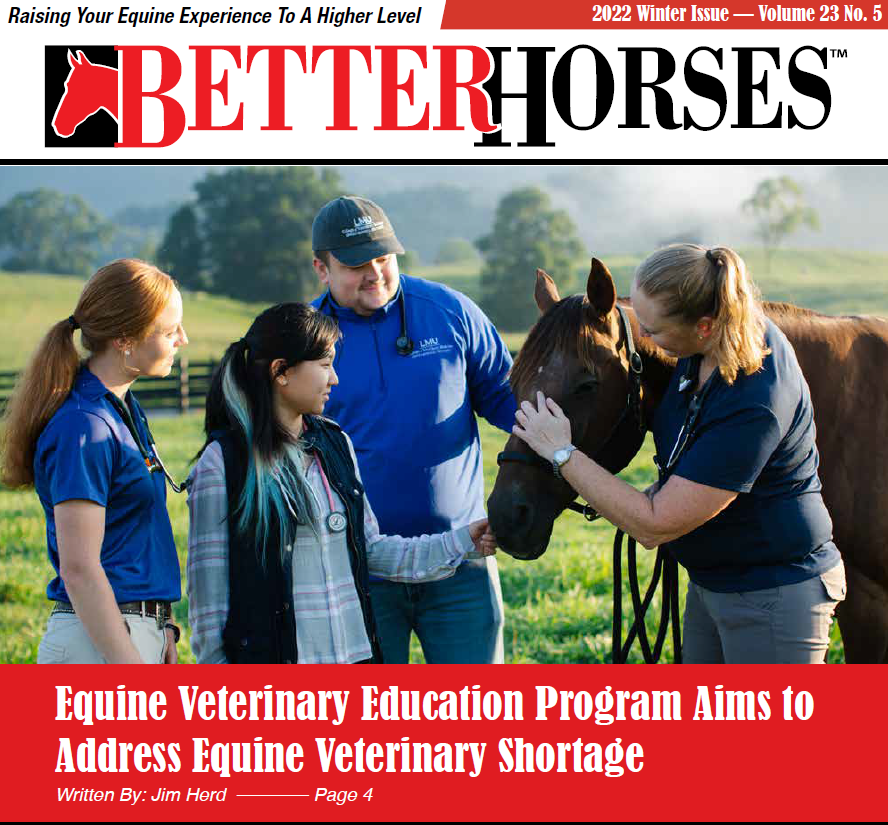 2022 Winter Edition Vol. 23, No 5
Equine Veterinary Education Program Aims to Address Equine Veterinary Shortage (P4) - Hope For Equine Rescues (P6) - Equine Health and Wellbeing (P7) - Need a Good Hand? Meet Kassie Fedrick (P9) - Forethought For The Forecast (P11) - Standing Tied (P14) & Much More!
2022 Fall Edition Vol. 23, No 4
Color Breed Congress Show Preparation (P4) - What does it take to just "tack" on a shoe? (P10) - Breeds of Livestock: Charolais Cattle (P12) - Black Cowboys Legacy Regonized in Youth Programs (P14) - What to expect at a veterinary referral hospital... (P16) - Horsemanship - As it Varies from Person to Person (P18) & Much More!
Subscribe to Better Horses Newspaper Today!
Sign up today to start receiving a copy of our monthly newsletter or signup to receive a copy of the Better Horse Network paper in the mail. There is a $15.00 annual subscription for the paper copy (printed 5 times per year).