"Better Horses TV is all about the love of the horse."  It is our way of saying thank you to our friends and horses that we have met and are meeting through this journey! Join show host Ernie 'The Horse Guy' Rodina every Sunday morning on KCWE Channel 29 at 8:00 am to see his next horse adventure on the unbelievable Better Horses T.V! You can also catch up on previous episodes by clicking the "Show Archive" button below.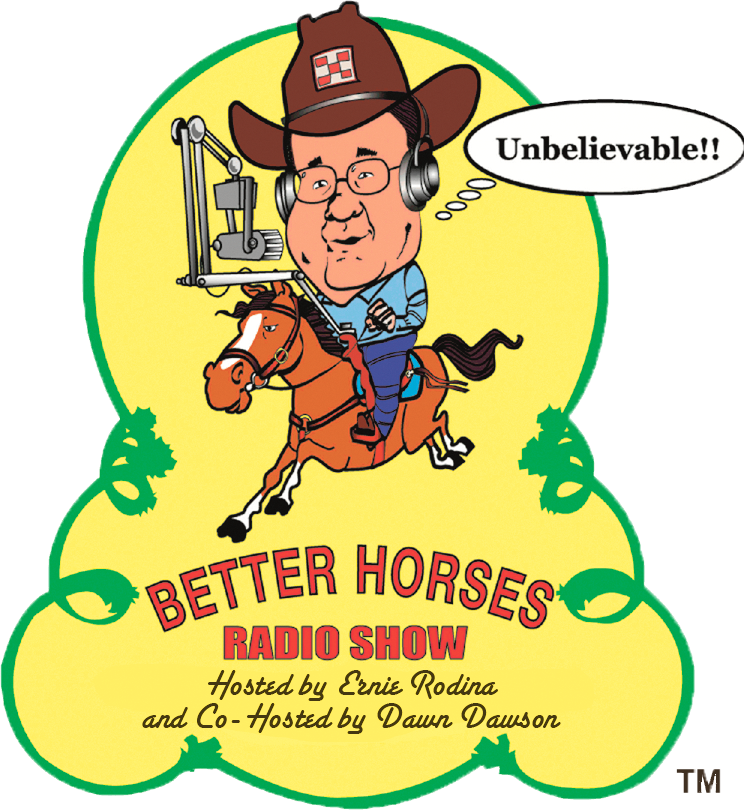 Better Horses Radio World Wide
Better Horses airs weekly on a world wide program that has over 25 stations across the Midwest as well as a local show "Better Horses Connected" airing Saturday mornings on KFKF Country 94.1 FM. These programs offer education and information on a wide range of topics such as horses, horses training, cowboys and cowgirls, some cattle and even Roy Rogers!
"BETTER HORSES CONNECTED" RADIO SHOW
The "Better Horses Connected" radio show aires weekly on Kansas City's KFKF Country 94.1 FM on Saturday mornings.  It is our local version of the Better Horses Radio Regional World Wide Show. With hosts, Ernie Rodina along with Ed Adams Better Horses Connected zooms in on local news and events while at the same time utilize enjoying top midwest talent.  You can also listen live every Saturday morning at 5:00 am CST or visit our podcast "Better Horses"
"Better Horses Connected" Radio Show Air Date: 6/16/18
Better Horses host Ernie Rodina and Ed Adams talk with special guests:
Inspiration: Frank Slaughter- Open Range Fellowship:  816-377-0017
Guests today: Jordyn Allyn: AQHA Rope Horse Trainer: Bucyrus, Ks.; "Finding the right horse"   and from Silkville Ranch;  Teresa & Lowell Anderson with the Kansas Ranch Roping Association.
6/8/18 Guests today: Dr.Karl Frees: Wilhite & Frees Equine Hospital. Logan Wiseman: All Around Champion at the Kansas High School Championships. World Champion: Al Dunning: "Don't be a passenger, be a -------leader:
4/28/18
Show Description: Frank Slaughter, Annete Turnbough, Michael Rayner
4/21/18
Show Description: Kyra Stierwalt, Dr. Fred Gardner, George Wingert
BETTER HORSES WORLD WIDE RADIO SHOW
The Better Horses World Wide Radio Show is a weekly program that airs an hour of great Equine Information to our listeners. We are currently airing on over 25 stations across the Midwest, from western Oklahoma to Augusta, Georgia! We talk about God, horses, horse training, cowboys, cowgirls, rodeo, equine health, some cattle, and even about Roy Rogers. We love horses, horse folks, and the Western Way of Life and hope you enjoy listening to this show, as much as we love doing it! Check out the current listing of shows!
The Better Horses World Wide Radio is available as a podcast.  Search for Better Horses on your podcast app. and listen to previous shows or download on any mobile devise.
BETTER HORSES NEWSPAPER PUBLICATIONS
2018 Spring Issue — Volume 19 No. 2
2018 19th Annual Dream Ride (P9) - One Family Big Dreams (P12) - Coffeyville Cowboy Climaxes National Finals Rodeo At Fourth in World Team Roping Heeler Standings (P17) - Passing of "This" Bonnie and Clyde, Renowned Draft Pulling Team, Leaves Big Void For Loving Family Owners (P19) - Safe Traveling with Your Horse (P24)
2018 Stallion Edition Vol 19, No 1
2018 Equifest Blends Old Favorites with New Attractions (P6) - It's Time to Right a Wrong (P10) - Whether Winning Barrel Races Or Gathering Cows, Teagarden Quarter Horses Feature Kind Dispositions (P12) - The Practice of Equine Law (P18) - Ranch Life and Painting, It Keeps Eureka
Horsewoman Going Strong (P12) - Perry State Park Wild Horse Trails (P31) - Better Horses Dream Ride in the Flint Hills (P35)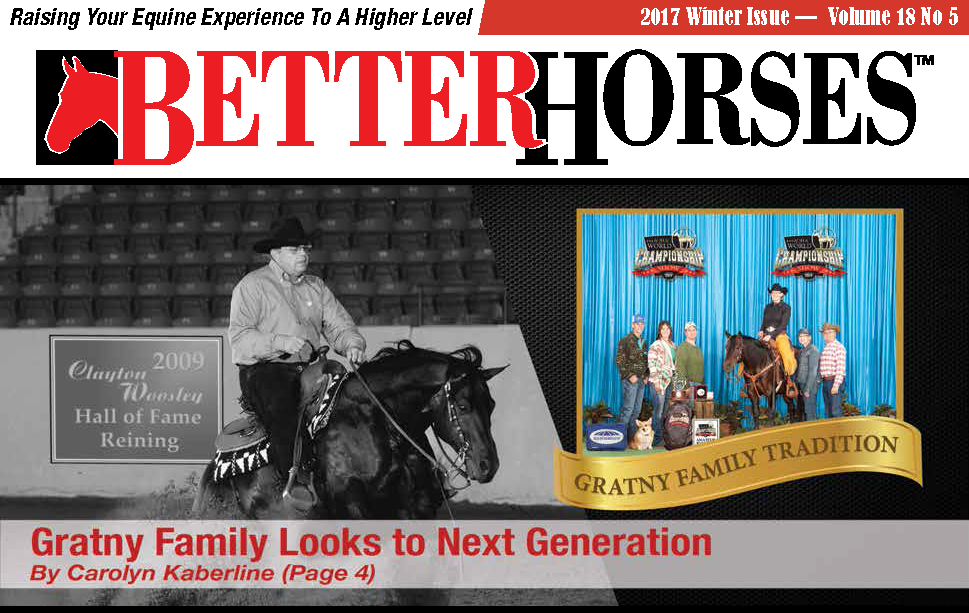 2017 Winter Edition Vol 18, No 5
Gratny Family Looks to Next Generation
Dr. Maureen Sutter Attends Missouri Veterinary Medical Association
Jess the Crash Dummy Avoid Wasting Your UlcerGard
World Champion Cowboy on a Roll…
Alma Cowboy Follows Yet Young Lifetime Dusty Labeth joins EC
Subscribe to Better Horses Newspaper Today!
Sign up today to start receiving a copy of our monthly newsletter or signup to receive a copy of the Better Horse Network paper in the mail. There is a $15.00 annual subscription for the paper copy (printed 5 times per year).